It's Time Again! Gathering of the Scots
Rod MacIntosh


2014 will mark the 13th consecutive year of the Gathering of the Scots Festival in Perth-Andover, NB. Born from a single concept in 2002, "The Gathering" has grown every year to become Perth-Andover's largest festival of the summer and one of the fastest growing cultural celebrations in Maritime Canada!

It's really amazing just how time flies when you're having fun, right? Well fun is the "name-of-the-game" again this year as hundreds of visitors will converge on Perth-Andover for "3 Days of Scotland"!

THURSDAY, MAY 29th
Are ye man-enough to wear the kilt?

Have you ever wondered what it would be like to throw the Scottish Caber or Hammer? Thursday's Heavyweight Athletics Workshop (5:00 PM) will give everyone (male and female alike) the opportunity to see what all the rage is about! For a small registration fee, let our Professional Instructor Dirk Bishop walk you through the finer points of each of these historic events. But be careful . . . this is a lot of fun! You may even want to continue your career and join the Amateur Competition Saturday! Stop in to register today at our web-site at www.gatheringofthescots.com.

It ain't the Masters!
Friday afternoon sees "the Celtic 4-man scramble" – a light-hearted round of Scotland's national sport at the prestigious Aroostook Valley Golf Club in Four Falls, NB. Although definitely not mandatory, get in the spirit for the Gathering. Pin on a plaid or pull on the kilt, and let the haunting sounds of the Highland Bagpipes serenade you at this historic site in the Scottish Highlands of Victoria County. Start the weekend off right! Bring a friend and enjoy an afternoon of golf and refreshments at special festival pricing!

FRIDAY, MAY 30th
There will be lots of athletics on Friday!
Don't miss the "Masters" category of Heavy Athletics Competition (40 years plus) highlighting our very own "World Masters Champion" Dirk Bishop at 3:30 PM.

Are you ready for a bit to eat and maybe a wee dram?
What would a Scottish Gathering be without a Medieval Castle – and a Scottish Ceilidh? Get your seat early at Perth-Andover's prestigious Castle Inn, Restaurant & Bar for a delightful evening of great food and entertainment. Lots of pipes and drums, highland dancers plus live Celtic Music to dance the night away by one of New Brunswick's most popular Celtic bands – Mason's Tender! Arrive early for the games and come to the Ceilidh (pronounced Kay-Lee) overlooking the village of Perth-Andover ! A great evening to be had by all!

SATURDAY, MAY 31st
The Highlander's Breakfast!
Saturday starts early at the Gathering. Take in our truly amazing "Highlander's Breakfast (7 am -10 am) – served just across the street from the festival grounds at the Perth Elks Lodge. Fuel up for a busy day at the Gathering of the Scots – delicious home cooking and down-home hospitality for a very reasonable price! How could you refuse this deal?

Gates open early!
The gates to the festival grounds open at 8:30 am as performers and athletes prepare for a complete day of "The Ultimate Celtic Experience"! Dozens of musical performances, athletic competitions and so much more are guaranteed to absolutely overload the senses! Take the time to view some of the many genealogy and cultural information displays – visit the assortment of Celtic retail vendors – and don't miss the excellent variety of food and refreshments offered. From "Haggis-on-a-bun to the Highland fling" – it's all at this year's Gathering of the Scots!

How about a workshop?
For those looking for a more "hands on experience", register to attend one of the many informative workshops offered on the grounds. Whisky tasting sessions are always popular – or why not a short session on fly-tying? Have you ever dreamed learning to play the Highland Bagpipes? And let's not forget the always-popular Highland Dance workshop!

Brutes & Brawn!
The "next generation" will take the field Friday evening (9:00 AM) when the "Junior" competition begins. Members of our own Southern Victoria Junior Heavy Athletics Program will compete against all-comers from Ontario and Nova Scotia. "Heavyweight Athletics Rule" at the Gathering of the Scots, with amateur and professional – male and female divisions alike will take the field throughout the day. From Halifax to Ottawa – from New Hampshire to Maine – and beyond, they are all planning to take top honors from the field in 2014!

Rugby
The ever popular Middle School tug-o-war challenge will get your blood flowing, along with hundreds of competitors in the day-long Rugby matches!

Sheep Dog Demonstrations
What else could be more "Scottish" than an exhibit of highly-trained border collies as they demonstrate the "finer arts" of sheep herding? You will think you're back in like the highlands of Scotland!

Highland Cattle
Festival organizers are now making preparations for have a small display of "real-life" Highland Cattle on display the this year's gathering! These amazing cattle were originally bred and developed in the Scottish Highlands and Western Isles of Scotland. They are much different in appearance with long horns and long wavy coats which are colored black, brindled, red, yellow or dun. They are known as a hardy breed due to the rugged nature of their native Scottish Highlands

Spey-Rod Fly-Casting
Along with the traditional fly-casting competitions offered in the past, festival visitors will see a new demonstration in 2014 of "Scottish Spey-Rod Casting". Although rarely used in North America, Spey-rod casting (named after its origins along the Spey River in Scotland) is a much different "2-handed roll casting version" that requires a special rod and can greatly increase casting ranges! Stop in and see this new venue – maybe step in for a chance to try it yourself!

Put Your Fly Down!
But it doesn't stop there; why not try your hand at the popular Fly-Casting Competition? Events are set to accommodate the kids plus those others with a serious fly-fishing fetish! This all free at the Gathering – the winners will take home great fly-casting prizes!

The Longbow, the Recurve or the Compound?
Visitors in 2014 will be treated to a new archery venue offering visitors the opportunity to learn more on the finer point of this traditional sport. Local archery expert Dave Green along with members of Perth-Andover's newly-formed archery club will educate and let you try your hands at the fantastic medieval sport!

Just for kids!
The "Wee Ones" can enjoy a variety of events specifically offered including children's activity tents with scheduled themes and the Lightweight Athletics Workshop just after lunch. To complete the Celtic theme, visit the Gathering's Souvenir Tent and sign out (free of charge) a "kilt for kids" to wear all day long!

March with the Clans!
You can even contact us ahead of time – and we will provide you with a banner printed with your family crest that you and other members of your "Clan" can proudly carry during our Clan March! This is an impressive event to watch from the sidelines – but so much more emotional to participate in! Contact us early and we will have your family's banner ready to march with the massed bands! An event you will never forget!

Massed Pipe Bands!
Pipes and Drums will be absolutely everywhere! A must see is the intimidating Massed Band Parade at 12 noon followed throughout the day by individual performances and the unique Piper's Circle at 4:30pm.
SUNDAY, June 1st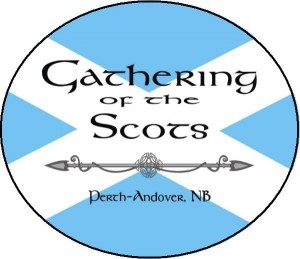 The Kincardine "Kirk on the Hill"
A pilgrimage will complete the long list of activities at the 7th Annual Gathering of the Scots – a pilgrimage into. Join us at the majestic "Upper Kintore United Church" in the Scottish highlands of Victoria County Sunday morning at 11:30 as we take time to say thank you for all of those that have come before us and toiled so hard to carve out a community for today's generations.

Larlee Creek and the "Kirking of the Tartans"
After a busy weekend of "everything that's Scottish" what better place to finish up – than where it all began. Join us Sunday evening at one of Perth-Andover's most historic sites – the 145 old Larlee Creek Church. Although rarely used, special considerations have kindly allowed for opening of this building's historic doors again in 2014 for a closing service at the Gathering. Many of our area's original Scottish settlers would have originally set their tired bones down on these same pews as they gave thanks to the new land they had come to. Special to this ceremony will a reenactment of the ancient "Kirking of the Tartans" – hard to explain, but amazing to witness! Long-time supporter Graydon Dingee will lead the congregation followed by home-made refreshments and a walk around this historic site and it's cemetery!

BUT I'M NOT SCOTTISH – OR, AM I?
And so you ask, "What's a Scottish Gathering got to do with me"? Well maybe you're Scottish – or maybe you not. You could be surprised though – over 20% of New Brunswickers make claim to their proud Scottish heritage! But it doesn't matter much really. . .
The Gathering of the Scots is hosted each year to celebrate just one segment of the rich traditions and ancestry of many of our people in the Upper Saint John River Valley. From our proud First Nations people to the later arrival of the Scots, Irish, French and many more, our communities are built on a diverse history of Multiculturalism.

The Gathering of the Scots is specifically organized to appeal to a limitless range of cultural backgrounds. Come to the Gathering!! Experience the culture!! A weekend not soon to be forgotten!!

For more information on this year's Gathering of the Scots Festival or to preview the schedule of events for 2014, simply access the festival website at Gathering of the Scots or call Rod MacIntosh (273-6710).