Tomlinson Lake Snowshoe to Freedom
Stephanie Kelley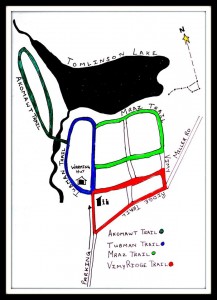 Mark your calendar and get ready to participate in the first annual Tomlinson Lake Snowshoe to Freedom event on Saturday, March 8th.
This promises to be a fun-filled day of history, learning, exercise and connection with the natural world at the final destination point of North America's northernmost passageway of the Underground Railroad.

There will be four trails marked out for four different levels of fitness and ability. These trails are accessible to all ages and levels of ability.

The Tubman Trail is named for the Underground Railroad's most famous conductor, Harriet Tubman. This remarkable African-American woman was an abolitionist, humanitarian and Union spy during the American Civil War.
She was born into slavery, but escaped and subsequently rescued more than 300 slaves using the network of anti-slavery activists and safe-houses along the Underground Railroad.
The Tubman Trail is the shortest and easiest trail and is suitable for little kids. It should take about 15 or 20 minutes to traverse on snowshoes.

The Mraz Trail is a bit longer, and is steeper and hillier than the Tubman Trail. This trail is named in honour of Arthur Mraz, the amazing historian and Underground Railroad researcher from Fort Fairfield. Art took part in the very first Tomlinson Lake Hike last fall at the age of 89. Art passed away last month, so if you attend this event take a moment to remember Art!

Vimy Ridge Trail is named in honour of the sacrifice and achievement of courageous Canadians who fought in the Battle of Vimy Ridge during World War I.
This trail is about the same as the Mraz Trail, with some hills to climb.

Akomawt Trail is the trail for snowshoers looking for more of a challenge. Akomawt is a Maliseet word that literally means "snowshoe trail", so calling it Akomawt Trail is a bit redundant, but hey! It translates as: akom means "snowshoe" and awt means "over there".

Akomawt is the hardest trail but is apt to be the most rewarding for wildlife sightings and general scenery. It goes over a beaver pond, intersects with a moose trail and runs through a hardwood ridge. Folks who snowshoe this trail will have the opportunity to see chaga fungus growing on old growth birch trees.

There will be a shelter and camp fire at the site, and nutritious snacks and beverages will be served. There will also be a port-o-potty on site for comfort and convenience!

There will be demonstrations on:
Winter Safety
How to build a fire in the bush
Winter Wildcrafting– you'll be able to sample both chaga tea and pine needle teas
Learn more about SAD, Seasonal Affective Disorder, and how to overcome it
And lots of other fun learning activities!
This event is free to attend, just bring your bodies and your enthusiasm. There will snowshoes available to borrow, but it will be first come first served so plan accordingly.
The event will run from noon until 5 pm.

Don Crabbe has graciously granted permission to hike through his wood lot, and several of the trails run through and around Jim Dunlap's Christmas tree plantation. Conditions permitting, Jim will plow a path for folks who'd like to hike without snowshoes.

To get to Tomlinson Lake, take Fred Tribe Road south and turn right onto Beaconsfield Road. Travel approximately 3 km and turn right onto Miller Road and then just follow the signs.

To learn more, or become a sponsor for this and future events please connect with Joe on Facebook.
Hope to see you there!