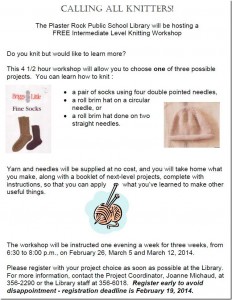 Do you knit but would like to learn more? The Plaster Rock Public School Library will be hosting a FREE Intermediate Level Knitting Workshop to be held at the Plaster Rock Library one evening a week for three weeks, from 6:30 to 8:00 p.m. on February 26, March 5 and March 12, 2014.

This 4 1/2 hour workshop will allow you to choose one of three possible projects. You can learn how to knit a pair of socks using four double pointed needles, a roll brim hat on a circular needle, or a roll brim hat done on two straight needles.

Yarn and needles will be supplied at no cost, and you will take home what you make, along with a booklet of next-level projects, complete with instructions, so that you can apply what you've learned to make other useful things.

Please register with your project choice as soon as possible at the Library. For more information, contact the Project Coordinator, Joanne Michaud, at 356-2290 or the Library staff at 356-6018. Register early to avoid disappointment – registration deadline is February 19, 2014.